Welcome to UPR-RP ROTC Taino Warriors Battalion
Welcome to the University of Puerto Rico at Rio Piedras "Taino Warrior" Battalion ARMY ROTC page. Our Battalion consists of five companies located in the San Juan Metro area, with programs at UPR-RP, Inter-Metro, UAGM-Gurabo, UPR-Cayey, and Inter-Bayamon. The University of Puerto Rico Army Reserve Officers' Training Corps (ROTC) is committed to training and developing the future officer leadership of the U.S. Army. The military science elective courses in the UPR Army ROTC program, taken along with required college classes, are designed to train and develop future leaders with no obligation to the military for the first two years. Military science classes prepare students with the tools, training, and experience to help them succeed in any competitive environment. Our cadre will provide cadets with the necessary skills and leadership training to become successful leaders and valuable assets to the United States Army.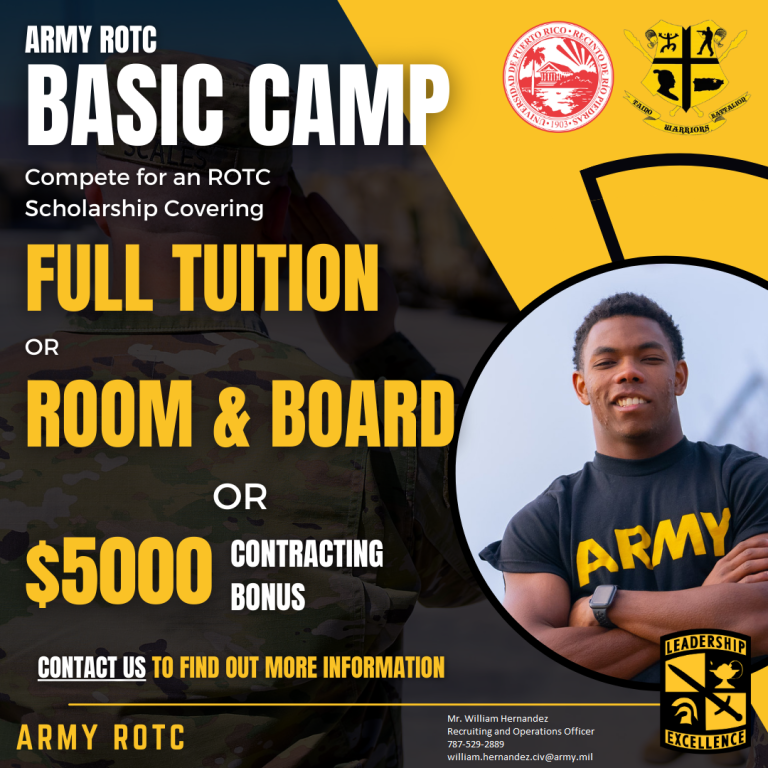 Our program offers students the opportunity to commission as Second Lieutenant in the United States Army after completing their studies at the University. While doing their bachelor's or master's degree, the student is offered the opportunity of military training, $ 420 per month (maximum of ten-month per year once contracted), and scholarships to study.
Recruiting Operations Officer: Mr. William Hernandez
Phone: (787) 764-0000 Ext. 85222 or (787) 529-2889
Email: william.hernandez.civ@army.mil

Office hours: Monday to Thursday 0900-1530. Friday 0900-1200
Students from the following universities are welcome to attend Army ROTC here: